About "Dante Must Die Mode"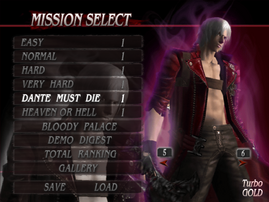 Dante Must Die Mode is the Most Difficult and Hated Difficulty from Capcom's Devil May Cry. It is unlocked after the player finishing the Very Hard Mode in DMC3: Special Edition (Hard in DMC1 and 2).
How to Defeat This Mode
To defeat this mode, especially if you're a first time player of Devil May Cry series, try to start on Normal Difficulty first to obtain your experience playing this game. Every single difficulties will unlock another difficulty (Normal > Hard > Very Hard> DANTE MUST DIE > Heaven or Hell).
Why Dante Must Die Mode is my Username
I can't get a better name so, this fits. :/
Community content is available under
CC-BY-SA
unless otherwise noted.