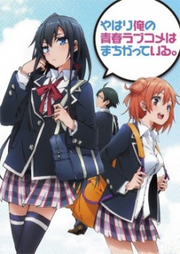 The Yahari Ore no Seishun Love Come wa Machigatteiru universe is based in reality. It is influenced by the writer Wataru Watari's life and his love of Light Novels, Manga, and Anime. It is not Isekai, alternate timeline, sci-fi, or fantasy. It is a slice of life, romance, comedy, fiction novel.
Its world is Earth and mainly takes place in Chiba city, Japan. In the Light Novels there are many references to real Chiba locations and other places around Japan.
The series started in the year 2011, The second year of high school (Current year the series is in) can be considered the year 2011-2012. The technology used in the series appears to match that time as well (PSP's, iPhone 4s, etc.). The first three novels mention PSP's, the PSVita was released after those novels.
A list of things, Objects, Places in the OreGariu World
Community content is available under
CC-BY-SA
unless otherwise noted.