Kaihin Sougou High School
Tamanawa was elected the as Student Council President so he must be liked to some extent by the students.
Student Council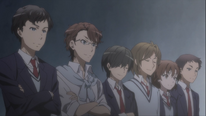 Tamanawa gets along with his fellow student council members. They show an unusual loyalty towards him as they enthusiastically agree with him unquestioningly. His school has a large student council and many volunteers in the planning committee. They all enjoy talking with the same businesslike lingo. In Volume 11 they are seen enjoying listening to Tamanawa tell a story.
Kaori Orimoto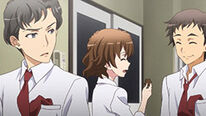 It is hinted that Tamanawa has feelings for Kaori. In Episode 12 (Volume 11) he is seen visibly irritated when Kaori promises to give Hachiman some valentine chocolate and when she shared chocolate with another boy from their school. In Volume 11, he gave Kaori a cake to her confusion. He mentions in foreign places the men give chocolate on Valentine's Day instead. Kaori was confused and disinterested but remarks that it was delicious. He is also upset with Hachiman for his "unfair" courtship of Kaori.
Kaori mentions to Hachiman during the Christmas event that she isn't on the student council, she is just helping "a friend". It is likely Tamanawa asked her to participate.
Sobu High School
Iroha Isshiki
As fellow student council presidents, they maintain a good working relationship at least at face value. At first Iroha accepted any demands Tamanawa might have. This changes after the Christmas Event. However, Tamanawa maintained a good relationship with her. He was happy to accept Iroha's offer for the joint-Valentines Event. Unknowingly Iroha is just using him to lighten Sobu school's budget and as a form of labour.
Hachiman Hikigaya
Tamanawa tried to be cordial with Hachiman when they first meet. However, Hachiman ends up being disliked by him after he criticized Tamanawa's work methods during the Christmas event.
When Hachiman and the Service Club arrive at the Valentine event, Tamanawa, still bitter over what happened at the Christmas event, greets them coldly. He is also displeased when seeing Kaori's "closeness" to Hachiman. He is likely unaware of the pair's past history, as he didn't inquire on their relationship. He was also jealous when Kaori offered Hachiman some Valentines chocolate.
Later, Tamanawa promises Hachiman they will have a fair challenge next time (regarding Kaori). Hachiman tried to explain his disinterest or standing towards Kaori but Tamanawa had already left and didn't hear him.
Yukino Yukinoshita
At first, Tamanawa was enthusiastic to have more help for the Christmas Event. His opinion sours when Yukino openly criticizes his actions (or lack thereof) during the event. He is just as irritated to see Yukino as Hachiman when they arrive at the Valentines Event, though he hides it to maintain appearances.
Community content is available under
CC-BY-SA
unless otherwise noted.