Kaihin Sougou High School
is a High School Campus which was mentioned in light novel to be relatively near
Hachiman's house. The Student Council from Kaihin Sougou participated in the collaboration event with Sobu High School for Christmas Event.
The students are shown to wear the uniform of Kaihin Sougou High school that is composed of a white dress shirt, a light blue sweater with two dark blue lines at the top, and a red tie under a navy blue blazer. The girls have a skirt .
Student council members
Edit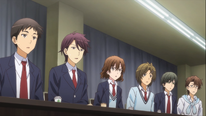 Tamanawa, Kaori along with seven other unnamed members of Student councils were shown to participate in the Christmas collaboration event with Sobu High School Councils. The members were shown to use complex English word but doesn't seem to execute any plan due to fear of failure but later took their role in to much effort after it became a competition
Most of the activities mentioned to be a collaboration event with Sobu High which is of great success
Christmas Collaboration event
Edit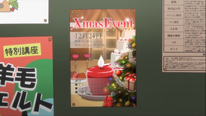 The event was mentioned to proposed by Kaihin Sougou High with in partnership with Sobu High School and nearby Elementary school (Tsurumi Rumi's School). The planing committee for the event as well as the stage for performance were at Takashu Community Center near the station. After much consideration and incidents, they event was split between the two schools. The budget was provided from both school's student council and some sponsors The Kaihin Sougou High school has more volunteers than Sobu High School.
The date of the event was on December 24 and the time was mentioned to be 13.00 (1:00PM in 12-Hour Clock)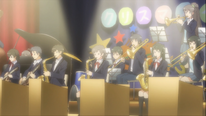 The School performed musical concert for the event by its own students by Splitting the work load. The students were Capable of playing an entire musical concert with in a limited time and budget not to mention the lack of practice, as it become a competition between the two schools.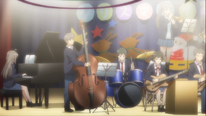 They performed before Sobu High and was mentioned to receive good response.The event was mentioned to be success leading to next collaboration between the school.

Pre-Valentine's Day Collaboration event of cooking class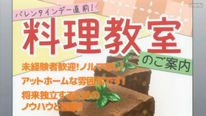 The event is formed after the success of their previous collaboration event as a Pre-Valentine event.The participants were shown to make valentine chocolate. The event take place in the same Takashu Community Center near the station.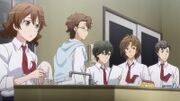 Iroha mentions that the Kaihin Sougou High school was providing the full budget and The event was initiated by Sobu High School Student council president, Iroha Isshiki. The members seems to be same ones of the Christmas Collaboration event
The date of event was mentioned to be on February 13.
Community content is available under
CC-BY-SA
unless otherwise noted.